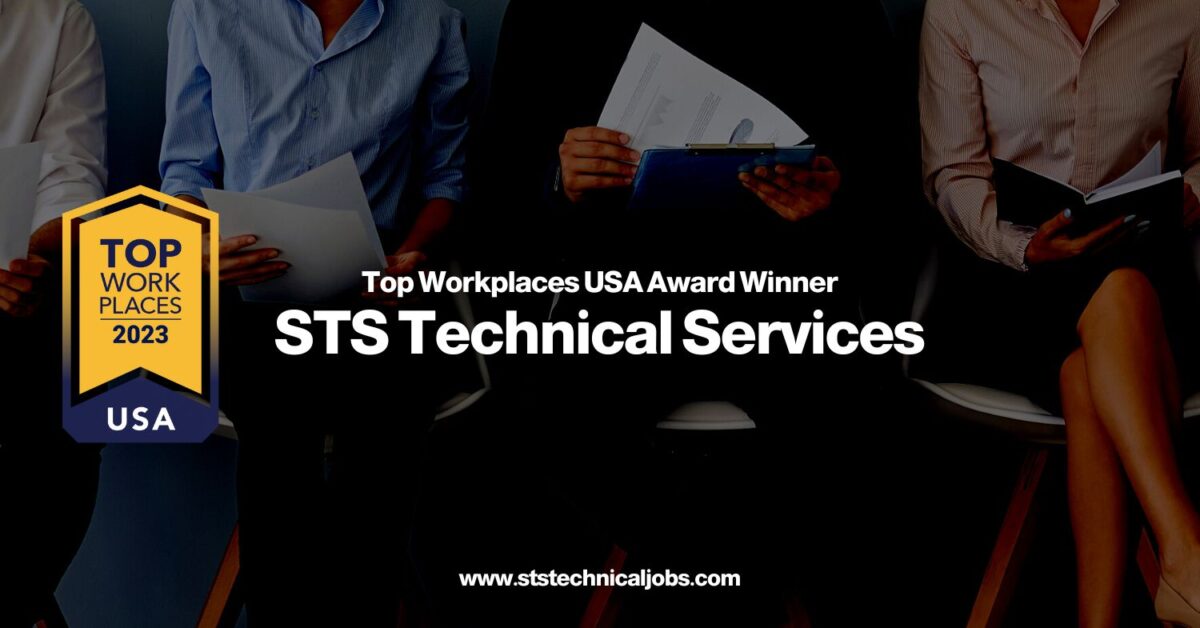 Brookfield, WI, February 1, 2023 – STS Technical Services (STS), a company that specializes in delivering end-to-end workforce management solutions for the aerospace, defense, manufacturing and industrial industries, is named by Energage as a winner of the "2023 Top Workplaces USA" award.
The Top Workplaces USA Awards celebrate organizations with 150 or more employees that have built great cultures. The program has a 15-year history of surveying more than 20 million employees and recognizing the top organizations in the United States and across 60 national markets.
"We are extremely excited to be included in this years Top Workplaces USA Awards," states Rick Koenig, President of STS Technical Services. "This award recognizes companies that take time to focus on more than just profits and losses. It focuses on companies that truly care and invest in their employees. One of the things that I am personally most proud of is how much employee growth means to the culture of STS Technical Services. Every member of my executive, director and management teams are employees who started off in this company as a Recruiter. In fact, I started with the company almost 28 years ago as an entry-level Recruiter. It was my first job out of college. I have now completed my twelfth year as president of STS Technical Services, and I think it's safe to say that career growth is woven into the fabric of who we are."
Over 42,000 organizations were invited to participate in the Top Workplaces USA survey in 2023, and the winners were chosen based solely on employee feedback, gathered through an employee engagement survey, issued by Energage. Award results are calculated by comparing the survey's research-based statements, which include 15 culture drivers that are proven to predict high performance against industry benchmarks.
"It's hard to fully define the impact COVID-19 had on our company culture given that we transitioned from an in-office team to a mostly remote-based workforce. That being said, we knew that culture had to remain a central focus of operations… remote work or not," states Chuck Harrison, Vice President of Sales for STS Technical Services. "At STS Technical Services, work is more than a four letter word. We want to do our jobs with a sense of purpose, accomplishment, and teamwork. So this award means a lot to us because, at some level, this acknowledges a form of accomplishment for just that. We are proud to have established a culture of promotion from within. We are also proud to be a company that, from the President to its newest employee, enjoys each other's company and respect one another not only as colleagues but also as people. This is a great honor for our team, and it's one I hope they revel in."
To learn more about STS Technical Services and the end-to-end workforce management services it provides, please visit www.ststechnicaljobs.com.
About STS Technical Services:
STS Technical Services is the staffing arm of STS Technical Group and STS Aviation Group.
The company is recognized by Staffing Industry Analysts as one of the largest staffing agencies in the U.S., and its teams specialize in delivering workforce management solutions across the aerospace, industrial, manufacturing and defense industries.
To learn more about STS Technical Services and the end-to-end workforce management solutions it delivers, please visit www.ststechnicaljobs.com or call 1-800-359-4787.
For More Information, Contact:
Bryan Shaw
Director of Marketing
1-800-800-2400 ext. 8521
bryan.shaw@stsaviationgroup.com